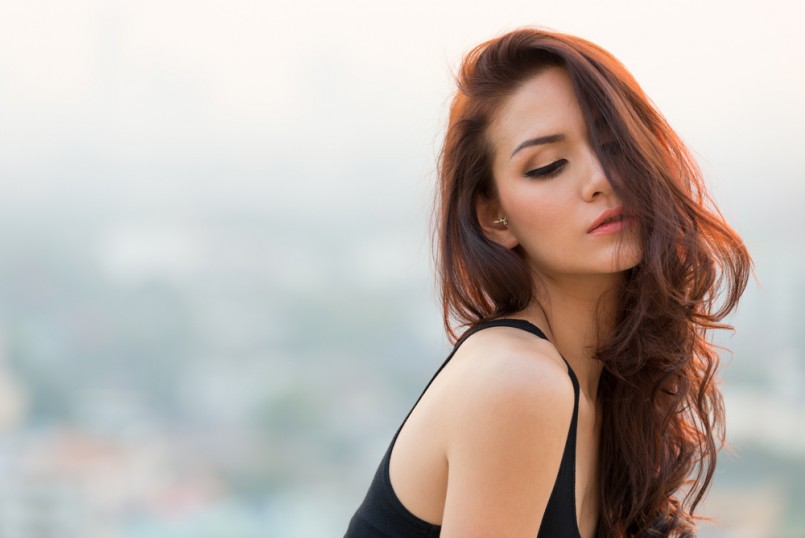 Getting and keeping healthy hair can be a bit of a challenge, especially if you regularly color or chemically process your locks. Many of us try to treat our hair with the respect it deserves but common mistakes and misconceptions are holding us back. Follow these healthy hair hacks to keep your hair lush and gorgeous.
Try co-washing: Instead of using a traditional shampoo, try incorporating co-washing into your hair routine. Washing your hair with gentle cleansing conditioners allows your hair to stay shiny, fresh, and hydrated without being stripped of its natural oils.
Use tea tree oil to help get rid of dandruff: Put the head and shoulders down and add a few drops of tea tree oil into your regular shampoo to help fight off flakes.
Avoid washing everyday: We know it's important to be clean but washing your hair every day does more harm than good. Cut your shampoo days down to once or twice a week instead.
Use heated styling tools as little as possible: Every girl has her favorite hair straightener or curling iron, but regularly using heated styling tools on your hair can severely impact the health and look over time. Try doing heatless curls and waves to get those styles you love without the damage.
Always use heat-protectants: During those times when hot styling tools are a must, always remember to use heat protectant products. These handy products keep your hair happy and moisturized in the face of extreme distress.
Make sure you are using the right hairbrush: All hairbrushes are not created equal…well, not for every hair type at least. Make sure you're choosing the right type of bristle for your hair type to reduce breakage and damage.
Stay away from sulfates: Always be sure to choose hair products that are expressly labeled as being "sulfate-free," these products are free of harsh chemicals that take the moisture and shine out of your hair and otherwise treat it badly.
Deep condition regularly: If you have especially dry and brittle hair (and even if you don't), it is important to regularly deep condition your hair to promote moisture and softness.
Say goodbye to towel drying: Roughly drying your hair with a bath towel causes more damage that you might think. To get the same effect, try drying your hair with a soft, old t-shirt.
Keep the product to a minimum: Buying and using the hottest new hair care products is always fun but overloading your hair with needless stuff can seriously weigh your hair down, making it over processed and hard to manage.
Rinse conditioner with cold water: When rinsing your conditioner, use cool to cold water to properly close the cuticles and seal in moisture. This allows your hair to make the most out of your favorite conditioner.
Sleep on a satin pillowcase: Much like harsh cotton towels, your cotton pillow case is rough to the touch, pulling and breaking your hair as you toss and turn at night. Buy a few soft, silk pillowcases to nip this in the bud. As an alternative, you can also sleep in a satin scarf or head wrap.
Don't skip your trims: We get that the temptation to have gorgeous, long flowing hair is too much to bare sometimes, but going too long between trims and allowing your ends to split drastically can dramatically effect the overall health and look of your hair.
Utilize essential oils: Essential oils like coconut oil, lavender oil, castor oil, etc. all benefit the hair in different ways. They are also all natural, typically safe, and relatively cheap and easy to incorporate into your normal routine.
Detangle before you shower: Trying to detangle wet hair is hard as it is, but the state of your soaked locks isn't the best for combing. Detangle with your favorite wide toothed comb before you shower to avoid breakage.
Professional freelancer in love with all things beauty. When I'm not writing for Daily Beauty Hack I can probably be found hoarding liquid lipsticks, daydreaming about the beach, or binge-watching cheesy teen movies.
Related posts
Follow us on Instagram
Instagram did not return a 200.