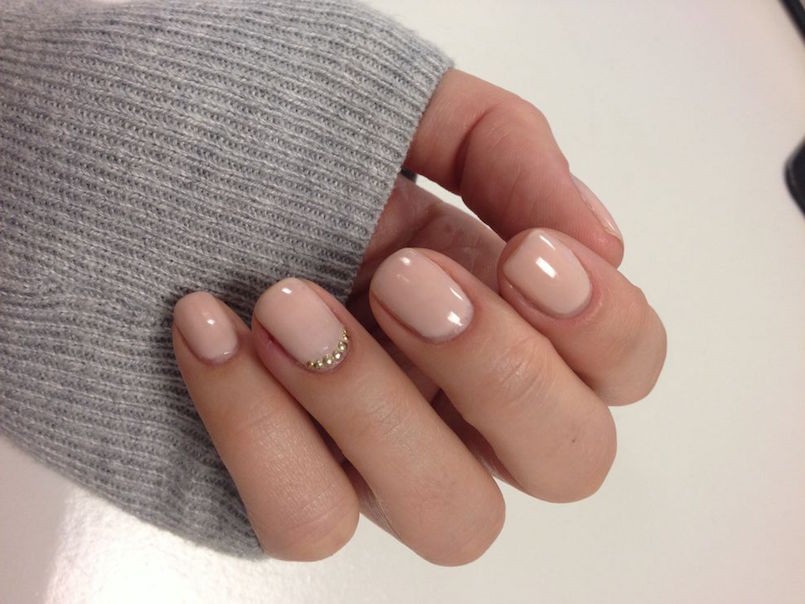 15 Ways To Rock A Nude Nail Color
When it comes to nude nail color, it doesn't seem like there'd be too much variation. After all, nude nails are there to look, well, nude. But nude nail color works great as the basecoat in a variety of styles. Below are several creative ways to rock a nude nail color.
Bling: One of the most popular ways to wear a nude nail color is with shiny, metallic accents. The nude nail acts as a neutral background, which draws attention to the jewels. It's a truly classy look.
Sparkle accent nail: Go for contrast by having nude nails with one bright, sparkly accent nail. Any glitter polish with a nude polish should do.
Rhinestones: Like the bling, a popular option is to have rhinestones over a basic nude nail color. One such style layers the bottom of the nail with rhinestones to create a division between the nail and the finger for a modular, orderly look.
Plain nude: Sometimes in our quest to look fabulous we forget the basics. A nude nail by itself is a classy, elegant look that goes with just about any outfit.
Sparkle ombre: A nude nail with a base of confetti polish is a stunning look. Just paint a base of nude, let dry and layer a confetti polish near the base of the nail. Try to go lighter on the polish the farther up you go to create a truly tapered, ombre look. The confetti should cover about the bottom half of the nail.
Sparkle tips: Alternatively, a nice shimmery sparkle at the tips of nails is sure to draw some eyes. Just lay down a nude base and paint the tips with a clear glitter polish.
Nude with confetti: Nude pairs great with one wild nail for contrast. Paint one nail with any confetti glitter. Tip: a clear, gel polish topcoat will give the confetti extra dimension.
Nude as an accent nail: You could also go the other way and paint your nails a basic color like black with one nude accent nail. A little black, accented tip on the nude nail will really tie it in. It's a great look for little black dress events.
Shades of nude: When people think of nude, they usually think of that general bright beige color. But there are tons of shades of nude to experiment with, from pinker hues to deeper brownish hues. Feel free to experiment or even combine colors on different nails.
Getting geometric: Remember those nail stencils and layer a basic geometric pattern on top of a nude nail color, like a classy black fishbone pattern.
Leopard spots: A nude base pairs well with leopard spot stencil patterns. The nude color matches some of the pale base colors in certain wild leopard varieties.
Jeweled tips: Jeweled tips create a sparkling contrast against a clean nude nail. Either go for rhinestones or get a bold confetti polish with large sequins.
Bling accent nail: You can also go with one shimmery nail with 3D metallic additions. This is perfect if you want a little bit of an accent, without going too wild.
Golden tips: A nude nail pairs well with a metallic gold polish on top. If you don't want the two matching too much, opt for a nude nail color that's on the pinker side.
Flower accents: A nude nail works as a wonderful base under flower stencil patterns. The nude color will blend nails in and make it look like the flowers are floating on their own.
Michelle Lovrine Honeyager is a freelance writer living in Southeastern Wisconsin. You can find out more about her at https://www.clippings.me/michellelovrine.
Related posts
Follow us on Instagram
Instagram did not return a 200.