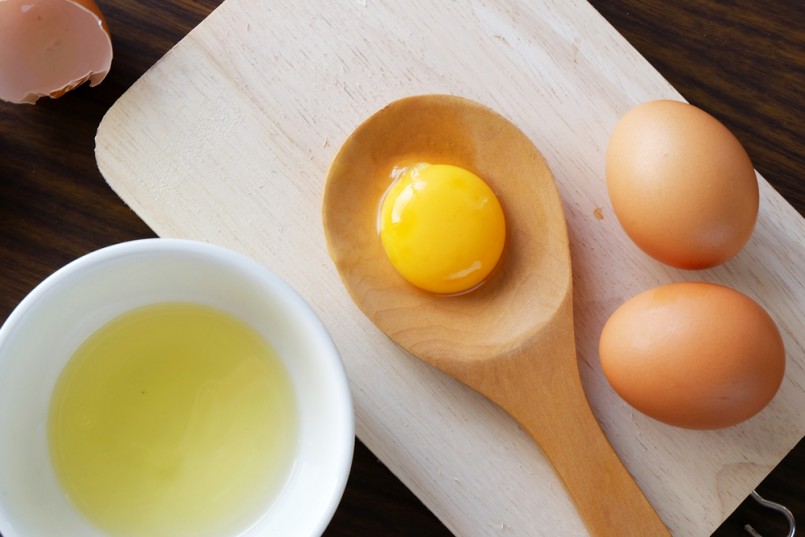 4 Egg Yolk Beauty Hacks To Give Your Routine A Boost
When it comes to beauty, it might not be so bad to have egg on your face. That's especially true for egg yolks. These yellow wonders are perfect for adding moisture to your beauty routine. The fatty acids and vitamin A in egg yolks are great for getting smooth hair, skin and nails. Here are four egg yolk beauty hacks to give your routine a boost.
Egg Yolk Face Mask
The most popular way to use egg yolks is to separate out one or two of them, whip them up and apply them to your face after you've cleansed. Leave them for about thirty minutes, and then rinse. This will pack some much-needed moisture back into your skin, and leave your skin healthy, smooth and glowing.
Egg yolks are also a popular additive to homemade, natural face masks. In addition to egg yolks, you could add raw honey, coconut oil, milk or mushed avocado for added moisture and nourishment. You could even add a splash or two of lemon juice for a skin brightening effect (apply only to the troubled areas if you have individual dark areas).
Cuticle Treatment
Another option for egg yolks is to apply them to your fingernail beds. You can either apply them with a fresh, new makeup brush (wash the brush well afterwards), or dip your fingers into some whipped egg yolks. Either way, leave the yolks for 15-20 minutes. That will increase the moisture levels of your cuticles and help prevent hangnails.
Hair Treatment
Yet another popular use for egg yolks is as a moisturizing mask for hair. After washing hair, simply apply the egg yolks evenly (start with two, but you may need more or less depending on the length of your hair). Leave the mask on for about thirty minutes. Rinse with lukewarm water. People have reported actually getting scrambled eggs in their hair if they had the water too hot.
You can also use an egg yolk or two as an ingredient in your favorite DIY moisturizing hair mask. To really pack in the moisture, combine equal parts olive oil, yogurt and egg yolks as a hair conditioning treatment. Also leave that in for thirty minutes.
Nail Strengthener
Sick of brittle, weak nails? Combine the antifungal properties of raw honey with the rich proteins of egg yolks. Add about two parts egg yolks to one part honey, with a splash of water. Apply the mixture to your nails and leave it on for about fifteen minutes. Then rinse it off to reveal stronger, healthier nails with each application.
Michelle Lovrine Honeyager is a freelance writer living in Southeastern Wisconsin. You can find out more about her at https://www.clippings.me/michellelovrine.
Related posts