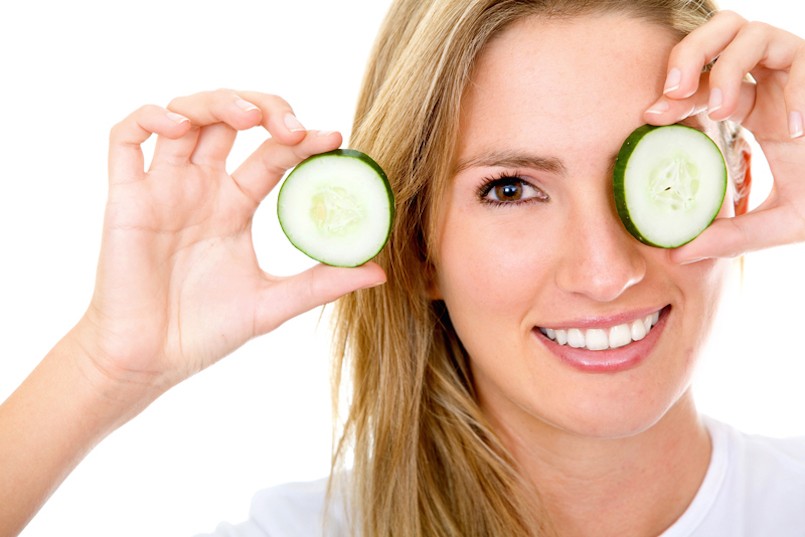 It seems no matter how much we sleep in on the weekends, we still have dark circles under our eyes on those early mornings during the week. Even after applying under-eye concealer, some days there's no denying that you still haven't caught up on sleep. Luckily we have the best hacks that can be done even as you're running out the door to quickly eliminate dark circles.
Take some allergy medicine. Dark, baggy eyes are actually a result of sun damage and blood flow from the capillaries in this area. Allergy medicine is an antihistamine that can shrink the blood vessels that have built up in this area. The key for making this trick work is to take it before bed if you're already predicting tired eyes. You'll wake up with perfectly energized eyes.
Use this concealer technique. You can't simply spread a small amount of concealer under your eyes and call it a day. In order to truly awaken your eyes, apply concealer on the dark circles and on your eyelids. Use a powder foundation over the dark circles on top of the concealer. This makeup trick will completely lighten and open up your eyes.
Apply some almond oil. Almond oil contains vitamin A, which contains antioxidants to quickly treat dark circles. The oil will also moisturize your skin to keep it healthy.
Soak black tea bags on your eyes. For this to work you'll need to brew a strong and caffeinated black tea. Place the soaked tea bags in the fridge so they can get cold. When you apply them to your eyes the caffeine will reboot the circulation under your eyes.
Relax with some cucumbers. This is a classic baggy eye solution and it actually does work. Place chilled cucumbers over your eyes to reduce swelling and awaken your skin.
Kate Wilke
Kate Wilke is a 200-RYT yoga instructor, meditation teacher, and Integrative Nutrition Health Coach. She teaches and works with clients in Nashville, TN. She believes in self-care in the form of colorful, healthy cooking, daily walks with her dog, and a glass of red wine. Follow her on Instagram — @meditatekate
Related posts