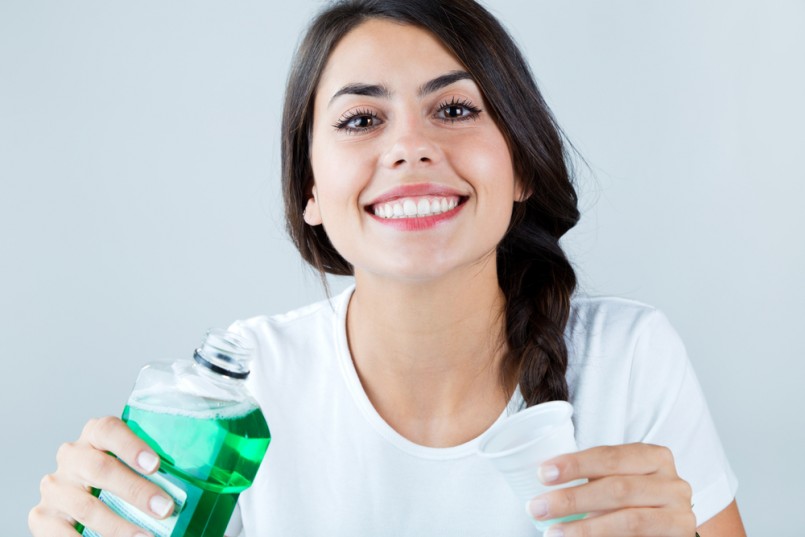 Ah, mouthwash, what a great product that's always there for you. From getting rid of onion breath to clearing out that morning funk in ways that toothpaste alone just can't—it's hard to imagine life without it. But did you know there are several beauty hacks using mouthwash, as well? That's right, mouthwash can make your breath smell great and make you look and feel beautiful. Read on to learn our favorite beauty hacks using mouthwash.
Hide a bruise
Applying mouthwash topically to a bruise can help it fade faster. Just dab it on and watch the purple tones of the bruise fade right out. It might not get rid of the bruise completely, but it should look better right before a big event.
Treat dandruff
This method falls on the controversial side. On one hand, dandruff can be caused by irritated skin, and the harsh alcohol in mouthwash could irritate it more. On the other, the menthol, thymol, methyl salicylate and eucalyptol in mouthwash are all antiseptic, anti-inflammatory and anti-fungal agents.
So if you've been having problems with mild dandruff, it might be worth a shot. Just combine equal parts water to equal parts original Listerine. Wash and condition hair like normal. Spray the mixture on your scalp and leave it for a few minutes, and then rinse.
Get rid of nail fungus
If your nails are on the yellow and thick side, you may be battling nail fungus. One home remedy you can try is combining equal parts alcohol-based mouthwash to equal parts white vinegar. Apply to nails two to three times per day until you see the desired results. It may take a few weeks. If you see no relief after that, you may need to check with your doctor.
DIY deodorant
Run out of deodorant at the worst possible time? Reach for the mouthwash in a pinch. Since it's so drying, it's not recommended for everyday use, but it will dry up the area and add a bit of minty freshness when you're desperate.
Poison ivy soother
Nothing ruins a beauty day like poison ivy. It seems like a very childish problem to have, but it can happen to the best of us. Applying mouthwash topically to the troubled area should reduce inflammation, soothe itchiness and start to dry up the infection.
Toner
If you're short on money or ran out of toner, try using a mouthwash for a day or two. It should be sugar-free and alcohol-based, but mouthwash can dry up skin and further cleanse it. Just don't use it regularly, or it could be too drying.
On a similar note, mouthwash could be good for cuts and scrapes, since the alcohol will help disinfect the area and it will work as an anti-inflammatory agent.
Footbath
Mouthwash makes a great addition to a footbath. Add no more than equal parts water to equal parts mouthwash, less if your feet are prone to drying. But it will cut back on odor and take care of any bacteria that may be brewing.
Kate Wilke is a 200-RYT yoga instructor, meditation teacher, and Integrative Nutrition Health Coach. She teaches and works with clients in Nashville, TN. She believes in self-care in the form of colorful, healthy cooking, daily walks with her dog, and a glass of red wine. Follow her on Instagram — @meditatekate
Related posts