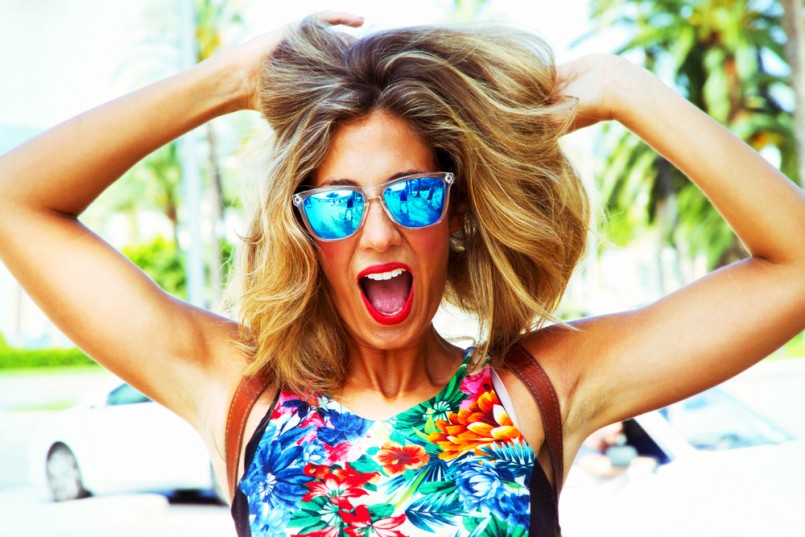 Beauty Bootcamp: How To Get Rid Of Dark Underarms
Thinking of sporting a fun, sleeveless outfit now that the weather is getting warmer? But you may not want to if you're self-conscious about those dark underarms, which can be caused by shaving, dead skin cells, sweating, hair removal creams or deodorants. Basically everything we do to our underarms causes dark skin. Luckily, there are several ways to brighten up that skin.
Just a note: the methods using topical treatments will need to be repeated several times a week until you see the desired results.
Natural Lighteners
Hit up nature's natural bleaching agents to get rid of those dark areas. The most popular is lemon juice, so this natural lightener is a no-brainer for dark underarm areas. It's also a natural exfoliator and will help get rid of those dead skin cells that can cause darkening skin. Simply rub a cut lemon on the skin for a minute or two, and then leave the juice on for fifteen minutes before rinsing.
Potatoes can also actually work as a natural and less harsh bleaching agent. Simply rub a freshly sliced potato on the area so the juice is left on the skin. Leave the juice for about twenty minutes, and then rinse.
Exfoliate
Since dead skin cell accumulation is a key culprit in dark underarms, you'll want to get an exfoliation regimen going. For instance, you can use baking soda to make an easy exfoliating scrub. You'll just need to add enough water to the baking soda to make a paste. Rub the paste on your underarm area for a minute or two, and then rinse it off.
Using orange peels is another natural way to exfoliate the underarm. Either buy some dried orange peels, or dry them and grind them to a powder yourself. Combine them with a lighting agent like lemon juice to form a paste. Rub the skin for a few minutes and rinse.
You can also use a pumice stone. You'd normally think of these being for callused feet, not the more delicate skin under the arm, but rubbing the area gently with the stone will get rid of those dead skin cells that lead to darker skin.
Moisturize
Dark underarms also tend to come from dry, abused skin. Milk can make the skin softer and lighter. To make the milk easier to work with, combine full-fat milk with enough flour and yogurt to form a thick paste. Leave it on your skin for about twenty minutes, and then rinse it off.
You can also use natural moisturizers like coconut oil and aloe vera. The aloe will especially reduce the redness and inflammation from shaving.
Change Your Method
If you have very dark hair, and not being able to shave every single day is contributing to darker underarms, you may want to switch to waxing. That will also mean less abuse to the area from regular shaving.
Michelle Lovrine Honeyager is a freelance writer living in Southeastern Wisconsin. You can find out more about her at https://www.clippings.me/michellelovrine.
Related posts
Follow us on Instagram
Instagram did not return a 200.