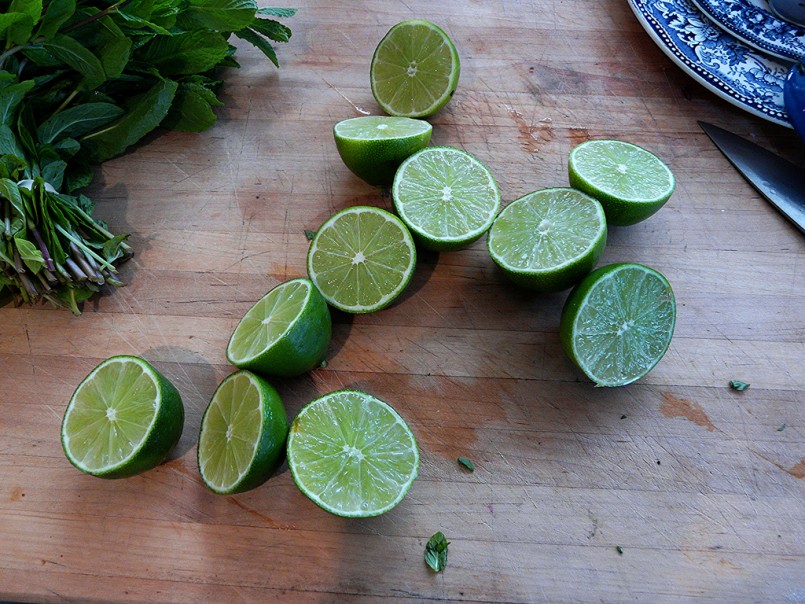 What could possibly be more refreshing than a cool sugar scrub made with mojito-inspired ingredients: mint and lime. While we're not actually making an alcoholic scrub, this "mojito" foot scrub will hydrate your feet and legs and give them a much-needed break. Flip-flops and bare feet are great for showing off our pedis, but they do our feet no favors. Being in the sun can also significantly dry out our legs and feet too. For smooth legs and soft feet, whip up this DIY Mojito Foot Scrub and apply from the top of your legs to the tips of your toes.
Here's how to make the exfoliating and moisturizing Mojito Foot Scrub.
DIY Mojito Foot Scrub
Ingredients
Mint leaves
Sugar
Coconut oil
Lime
Directions
Wash a handful of fresh mint leaves before adding them to a blender. Squeeze the juice of one lime into the blender and mix everything together.
In a separate bowl, add a scoop of sugar and coconut oil and stir until combined.
Add the mixture from the blender to the oil and sugar bowl. Top with some lime zest.
Exfoliate and moisturize your feet and legs!
Kate Wilke is a 200-RYT yoga instructor, meditation teacher, and Integrative Nutrition Health Coach. She teaches and works with clients in Nashville, TN. She believes in self-care in the form of colorful, healthy cooking, daily walks with her dog, and a glass of red wine. Follow her on Instagram — @meditatekate
Related posts
Follow us on Instagram
Instagram did not return a 200.