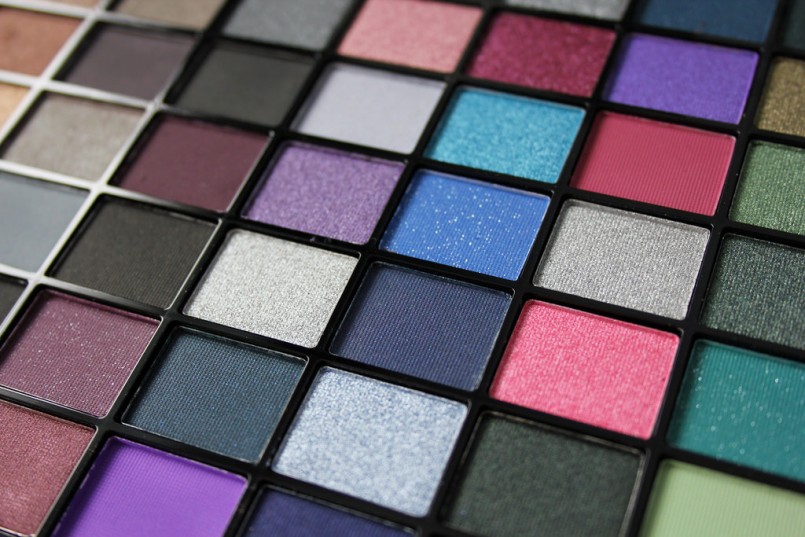 Frosted, icy eye shadow will make your dark lashes pop. If you have a special event coming up and need a quick way to dress up your eyes, then you'll love this simple style. You'll only need one of your favorite sparkly powder or liquid eye shadows, black liquid eyeliner, and your favorite black mascara.
To begin, use your finger or an eye shadow brush to apply the shimmery eye shadow. Make sure you cover the inner corner of your eyelid to the outer edge of your eyelid. Use your finger to apply a lighter layer slightly above and to the outside edge of your eyelid. If you prefer, you can use a lighter shade of eye shadow for the outside edges to create a highlight around your eyes. Make sure you apply a second layer for makeup that will last through the night. If you want to create even more dimension, you can apply a darker shade to the inside corner of your eyelid. If you decide to go with two or three shades, use your finger or a clean eye shadow brush to blend the colors for a natural ombre affect. If you want something more quick and easy, just go with one shade. Your eyes will still look glamorous, darling.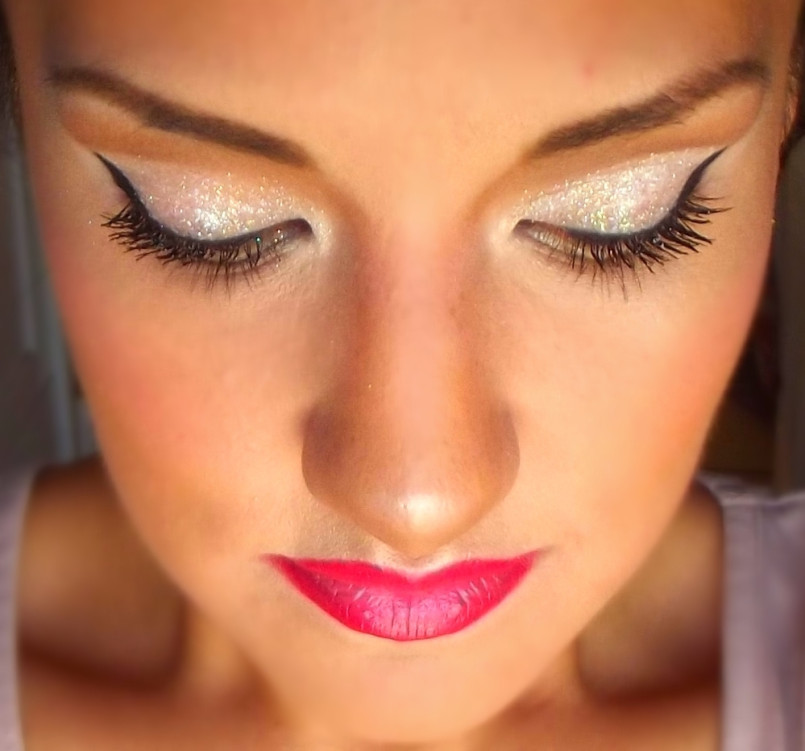 To apply the eyeliner, keep a steady hand and start at the inside corner of your eye. Apply the pencil as close to your eyelashes as possible. Start with as thin of a line as possible—you can always add more later on. Take a step back from the mirror after you apply a layer of eyeliner before applying another to make sure it doesn't get too dark. The key here is to make your shimmering eyelids standout, so you won't need a ton of liner. Besides, the bright, sparkly eye shadow will only make the black liner and your mascara stand out more, so applying less will actually go a long way. If you prefer more dramatic eyeliner, then gradually make the line thicker as you move toward the outside of your eye. Add a cat eye by using a credit card to steady your hand.
Choose your favorite mascara and apply it with the wider end toward the outside edge of your eyes. Do a few strokes to make your lashes extra thick, then carefully apply a few strokes on the top tips of your lashes. Finish by using the top end of the mascara stick and apply it to the outer corner where your lashes meet.
This shimmering eye makeup pairs perfectly with red or nude lipstick. This look is great for classy gatherings where the attire is black and white, and it is also the perfect look for formal events like weddings, graduation parties, or a night on the town.
Kate Wilke is a 200-RYT yoga instructor, meditation teacher, and Integrative Nutrition Health Coach. She teaches and works with clients in Nashville, TN. She believes in self-care in the form of colorful, healthy cooking, daily walks with her dog, and a glass of red wine. Follow her on Instagram — @meditatekate
Related posts
Follow us on Instagram
Instagram did not return a 200.