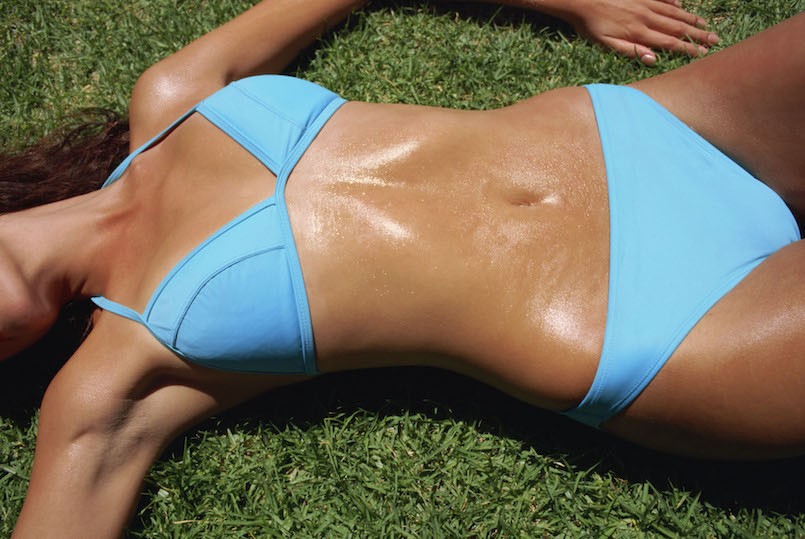 Acquiring a beautiful, even, glistening tan is challenging. First of all, you need time. And you need sunshine, which can be difficult to come by in the early days of summer. Instead of stressing over pale skin and your summer party deadlines approaching, get a quick spray tan and work on your sun tanning later. In order to leave the salon with a tan you're proud of, there are some quick preparations that need to be made.
Plan to get your spray tan one or two days before your event. If you are getting it two days before the event, go in the evening to make sure it lasts through your upcoming event. If you are getting it the day before your event, go early in the morning so you don't appear too orange or dark. Even if you look slightly orange directly after your spray tan, that color will go away after you shower. Keep in mind if you go early in the morning, you won't want to go anywhere with makeup or nice clothing. You won't be able to shower for some time after either.
Before you go, take a shower and shave thoroughly. When people end up with splotchy spray tans, it is usually because their leg hair is uneven. Shave all the places you normally do—underarms included. After shaving, exfoliate your skin with an oil-free, exfoliating body scrub. Once you dry off, do not lather on lotion. Lotion's thick consistency will act as a barrier to your skin, preventing a spray tan that lasts.
If you want as even of a tan as possible, go with the spray tan booth instead of having someone spray you. Despite what you hear about booths missing some spots, they are preferred to human error. The benefit of a spray tan booth is that you'll be by yourself, which means you can get completely undressed. Whatever method you choose, you'll get a better tan the less clothes you wear. Think about it, a spray tan is a shame-free way to acquire a line-free, even tan. You can't get one of those at the public pool! Besides, any clothes you wear will get stained.
You will receive a hair cap at the salon, which you should place just slightly past your hairline. This way you won't have a very noticeable streak across your forehead. Your tanning secret will instantly be revealed. You will also be provided some barrier cream for any dry spots, like your hands, feet, or elbows. These are also spots that absorb more easily, so a little barrier cream will prevent them from turning out extra dark. You can also add a small amount of lotion to those spots before you go. You want to make sure to avoid having dry, cracked skin so that you don't end up with dark orange in the creases of your skin. Take the barrier cream and apply a generous amount to the palms of your hands. It will look funny if your palms are as tan as the tops of your hands.
Make sure you close your eyes and mouth after you push the start button. You don't want white eyelids or gunk in your mouth or eyes. Turn after each spray to get complete coverage. Don't worry about this part, the machine usually tells you when to turn, making this a very easy process. Try not to towel off at all, but if there are spots that feel a little too damp then gently dab it to soak up some excess liquid.
Be prepared by bringing loose clothing and flip flops for afterward. You want clothes that barely sit on your skin, and you definitely don't want tight shoes. Tight clothing will leave streaks all over your skin, which is the last thing you want right before a special event.
Don't shower for at least eight hours after your spray tan, but even better, wait a whole day before you shower again. If you get your spray tan at night you're in luck. Sleeping warms up your body, which will help the tan really soak into your skin. When you do shower use lukewarm water.
Kate Wilke is a 200-RYT yoga instructor, meditation teacher, and Integrative Nutrition Health Coach. She teaches and works with clients in Nashville, TN. She believes in self-care in the form of colorful, healthy cooking, daily walks with her dog, and a glass of red wine. Follow her on Instagram — @meditatekate
Related posts
Follow us on Instagram
Instagram has returned invalid data.