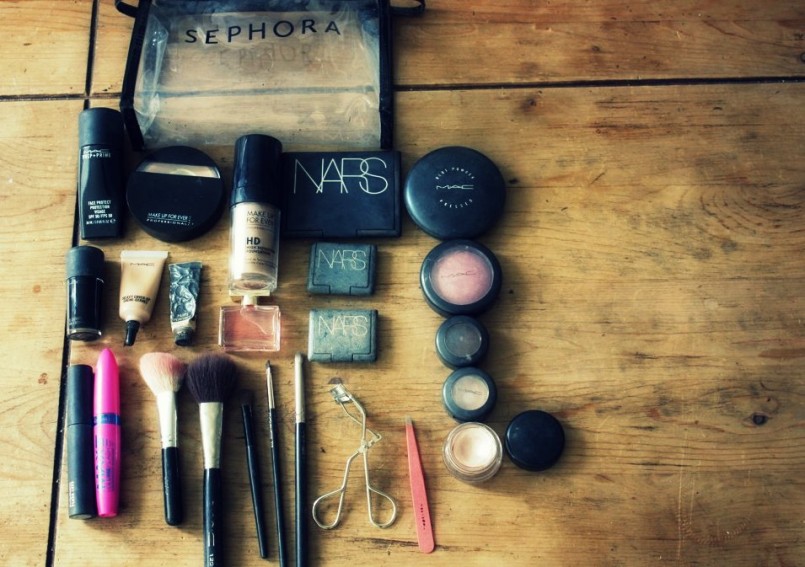 Girls on the go hate having to do too many things when getting ready in the morning. Thirty minutes to apply all your makeup? Yeah right. Some products are absolute essentials, and they are worth the extra time, but eyeliner, lip liner, setting spray, and liquid foundations are several products you don't need every day. The three things we know you'll quickly fall in love with are benefit's POREfessional, bareMinerals' Prime Time BB Primer-Cream Daily Defense Broad Spectrum SPF 30, and CLINIQUE's All About Eyes Serum De-Puffing Eye Massage.
Benefit's POREfessional will quickly diminish the appearance of pores. We often have trouble areas on our cheeks and the center of our foreheads. Large, visible pores can easily make your makeup look uneven. While also acting as a primer to keep makeup in place, we still suggest a separate primer to reap some added benefits. We love this product because you can keep it with you all day long to touch up oily areas and take away shine. The silky, smooth texture is thin and won't feel "cakey" on your face.
BareMinerals' Prime Time BB Primer-Cream Daily Defense Broad Spectrum SPF 30 will protect your skin from sun damage no matter where you go throughout the day. Many people forget to apply any kind of sun block to their faces on a daily basis, but your skin needs protection every day—even in the winter! Aside from its main purpose of holding your makeup together, this primer will also brighten your skin tone and even out your complexion. The primer is also a moisturizer, so it is especially good for your skin's health, but it still won't produce excess oil. Say hasta luego to blemishes and uneven coloring!
CLINIQUE's All About Eyes Serum De-Puffing Eye Massage is a must-have. We all could benefit from a tool that erases dark circles under our eyes and takes away the puffy bags, and this product does just that. The cool and refreshing rollerball will feel like a nice little massage for your sleepy eyes. This product will make you look and feel more awake. The serum contains caffeine, antioxidants, and botanicals to diminish any evidence of tiredness. Luckily for you if you really lacked sleep the night before, this tool can be used on top of makeup for a quick afternoon lift.
Keep these three items in your beauty bag, and you'll be prepared for flawless, lasting makeup every day.
Kate Wilke is a 200-RYT yoga instructor, meditation teacher, and Integrative Nutrition Health Coach. She teaches and works with clients in Nashville, TN. She believes in self-care in the form of colorful, healthy cooking, daily walks with her dog, and a glass of red wine. Follow her on Instagram — @meditatekate
Related posts
Follow us on Instagram
Instagram did not return a 200.