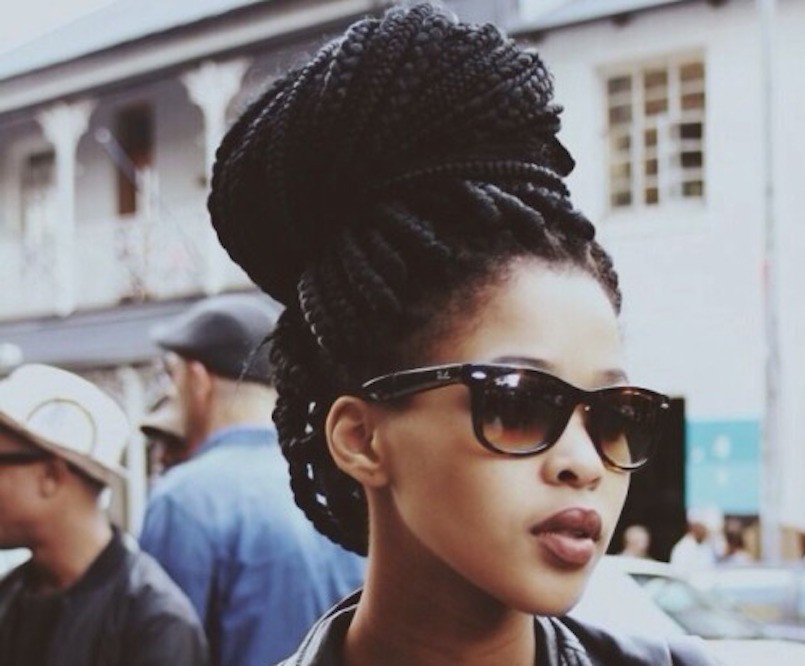 When you're tired of wearing your braids down, a box braid bun is a great alternative. The easy look is perfect for a casual day in sweats or weekend clothes, but it is also suitable for a formal night out. The best part is that putting your braids in a bun is incredibly easy. In just four steps you'll have a box braid bun that is glamorous and adds a huge amount of style to your entire look.
Supplies
Durable hair tie
Bobby pins
Directions
Pull together all of your hair in the spot where you want the center of the bun to be. Tie it with your hair tie.
Twist your ponytail around your hair tie until there is nothing left to twist.
Tuck the ends of your box braids into your hair tie to secure the bun. If there are any loose ends, wind them as long as they'll go and then tuck them into the hair tie too.
Go around the bun and use bobby pins anywhere it feels loose to make sure the box braid bun stays in place.
You can dress up a box braid bun with fun tribal headbands and floral scarves to give it even more style. Either tie the scarf or headband around and knot it in the back, or you can tie it into a bow in front of your bun for a more chic, feminine look. Our favorite styles with box braid buns are jumper overalls, leather jackets and skinny jeans, or distressed jeans with a white tee.
Kate Wilke is a 200-RYT yoga instructor, meditation teacher, and Integrative Nutrition Health Coach. She teaches and works with clients in Nashville, TN. She believes in self-care in the form of colorful, healthy cooking, daily walks with her dog, and a glass of red wine. Follow her on Instagram — @meditatekate
Related posts
Follow us on Instagram
Instagram did not return a 200.